Kasoria of Etzos
Show No Pity in A City Full of Sin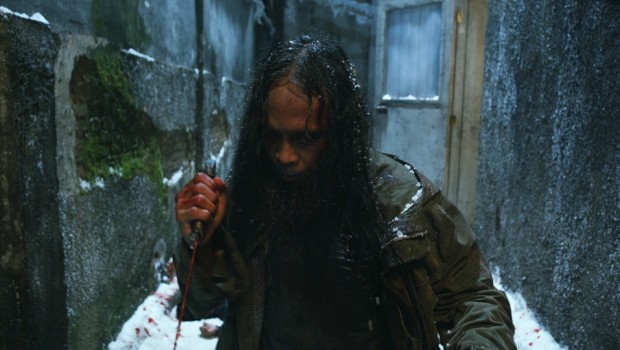 Name:
Kasoria
Aliases:
The Raggedy Man ("An Duine Luideach", in Ith'ession), Vorund's Hound, Vri's Shadow, The Headsman of the Woods, The Shark of Yaralon Bay, Mister Thagoras, Karim
Age:
49
Race:
Human
Date of Birth:
9th Day of Ymiden, 673
Marks:
None
Factions Joined:
None
Languages Spoken:
Common Tongue (Fluent), Ith'ession (Broken)
Partners:
None
Kasoria isn't much to look at from a distance. Not even five-and-a-half feet tall and sparsely built, his usual garb of tunic, breeches, and hooded cloak seems to hang off him like a scarecrow's rags. The untamed mane of hair sprouting from his scalp and face only adds to the picture of a man most definitely worthy of the title "raggedy". This is, of course, entirely intentional. Up close - close enough to see the black eyes set into a lean, reptilian face - one can see the sparseness only applies to fat. Kasoria's form is wiry yet the muscles dense as steel cables. Closer still, and one might see hints of the topographical map of scars that much of his body has become. The Raggedy Man has been in the mortality business for going on thirty arcs; surviving that long in the life leaves a man with plenty of nasty souvenirs.
As of 719's Cold Cycle, however, Kasoria's look has changed radically. He is still the same short, slight figure from a distance. Still favors cheap, durable clothing. Still keeps his weapons of steel and iron close, for no matter how great his magic grows, he never forgets it was by sword and bare fists he survived long enough to gain it. But that magic has extracted a steep price from him. His Abrogation mutations have transformed him physically, more into the Raggedy Man of urban myth than ever before, even as his heart and mind leaves the business of assassination behind forever.
Witchmark: Kasoria has a star-shaped scar on each of his palms, appearing in the aftermath of his Initiation. When he begins to summon his ether, the stars begin to glow

Competent Mutation - Warning Waves: The air around Kasoria seems to thicken and become more turbulent the closer a person gets to him. Within three feet, and it can feel like wind picking up; closer than a foot, and it feels like there's churning water trying to separate the outsider from Kasoria. This is due to waves of faint Abrogation ether rippling off him, as his Spark senses a possible threat to its host.
Note: this applies to those who are actively trying to approach him; those in a crowd or busy street passing by without noticing him are unaffected.

Expert Mutation - Black Stones: Kasoria's eyes are now jet black, from tear ducts to the pupils. Not a hint of white or color remains in them, though his vision hasn't changed at all. They look like polished obsidian balls and those meeting his gaze can see nothing but themselves, though the reflection is formed of shadow and shades of darkness. At some point, Kasoria's Spark decided that it was safer for the two of them to be feared and thus avoided; this mutation is but the first evidence of that.

Master Mutations - Chained: Kasoria's bare arms from shoulder to palms appear as if heavy chains are wrapped around them. Somewhere between bruising and brands, the thick, winding marks started appearing after he began to use the Shackle ability in mage-combat. His affinity for this and his Spark's recognition of that means that his arms now permanently bear evidence of their use, and when his magic is activated, they turn black and pulsate.

Cloak'd Eternal: More extreme is the constant layer of shadow that lays upon Kasoria, most obviously around his head. What looks like black smoke - replicative layers of Abrogation ether - constantly shifts and drifts around his body, forming the rough outline of the ragged cloak that he wore for so many arcs. His Spark has embraced the persona of the Raggedy Man even after Kasoria laid it to rest. Now it always appears like he's hooded and cloaked, until one draws closer and sees the mutation for what it is. The more agitated Kasoria becomes, the thicker the layers get, his Spark's way of readying itself for combat.
Note: the torch-motif medallion Kasoria wears negates the visible effects of this mutation.
Witchmark:
Kasoria has a roughly circular pattern across his breastbone, that is constantly changing, transforming, and resettling for a handful of trills. The pattern - which looks more like a tattoo than a brand - dis multicolored yet does not give off any light. Like his Abrogation Witchmarks, the perpetually-transmuting pattern glows when he uses Transmutation.
Competent Mutation - Eye Spies:
Always questing for new materials and substances, Kasoria's Spark has manifested as a pair of eyes on the back of his hands. They are usually closed and sunken into his flesh, almost resembling ugly scars. Until they are directly and deliberately stared at for more than a bit: then they snap open, and follow one's gaze around the room.
Kasoria has found that he has some vague sense of sight emanating from them when he is robbed of his natural vision, such as being blindfolded or stuck in a place with no natural light. Once his natural vision is useless, the mutation will activate. However, his Spark sees more in terms of qualities and objects than dimensions and distance. This effect extends for around ten feet out from him, and vanishes once his natural vision is restored. While Kasoria is aware of what his surroundings are composed of, the lack of dimensional context somewhat inhibits his ability to fight, since the mutation interferes with his ability to detect threats and opponents through his remaining senses.
When the mutation itself is covered up (by gloves, for example), it won't work at all. Once the covering is removed, the eyes will open instantly and Kasoria will have to compel his Spark/mutation to close them, rather like how he'd have to shush an excitable animal after a period in isolation.
Expert Mutation - Transmuto Ergo Sum:
Unlike his reserved, paranoid Abrogation Spark, the etheric spirt of Transmutation within Kasoria is unafraid to let new sensations permeate it. That has come with a cost, for the magical process is now two-way. Whenever Kasoria uses his Trasmutation with a specific material in mind - whether it be wood and stone or steel and diamond - his skin will take on the appearance and general quality of that transmuted substance. This effect will last for a break, then slowly fade away to nothing within another break. With Meditation and additional coaxing of his Spark, Kasoria can consciously remove the effect within around fifteen bits (if uninterrupted and magically capable without Overstepping).
While vexing and inconvenient, there are some benefits to this. For example, transmuting stone will result in Kasoria's skin being tougher than mere organic material (although something like wood makes him, of course, more susceptible to fire). Such a willingness for his Spark to take on the properties of that which is transmutes, also means that he can use his magic much faster than normal.
This physical change extends only to his skin, however. Below that thin layer of flesh, Kasoria is unchanged by this mutation. It also only activates when he is using a Transmutation ability that utilizes a substance or material. Spells such as Ether Missile, Absorption, or Brilliance, for example, are unaffected by it, since they are purely etheric constructs.
Master Mutation - To Seek, To Strive:
Kasoria's burgeoning, curious Transmutation Spark has become strong enough that it essentially ignores his demands to retreat into dormancy. This has manifested into quite a notable mutation: a constantly moving, fist-sized mass of ether and wanderlust. Much like the
strange, glowing algae on distant seas
, this Mutation pulses and shines wherever it goes. Veins appear swollen with blue-white light, flesh appears like paper with a colored flame behind it. The effect causes him no discomfort, but it can be distracting, and Kasoria has no control over where it roams while he is not actively using Transmutation. That can mean the strange effect can wander over the soles of his feet, his hands, his back, or even across his face!
Fortunately, when he directly commands the Spark to be cast, this mutation subsides, as the Spark suddenly has direction again. Much like "Transmuto Ergo Sum", it has the benefit of speeding his casting, since the Spark is now always a fleeting thought away from use, and requires little to no time to be "summoned" (although he still needs to decide HOW to use it).
The effect also "sleeps" when he does, since even a mindless extension of his ether knows Kasoria is unlikely to use it when he's unconscious. During these times, it manifests as a still, barely-lit tinge around his hands, since that is the part of Kasoria his Spark is most familiar with. On the downside, it also takes as long to be summoned as Kasoria does to wake up. Only a few moments longer than normal, perhaps, but that can make a lot of difference.
Master Mutation - Wrap The World Around You:
Much of Kasoria's use of Transmutation has been to alter his environment as suits his needs. Whether it be spikes from the ground, turning it to quicksand, corroding walls or locked doors, or strengthening weapons and barriers he utilizes, Kasoria shapes the world around him with his magic. Seeking perhaps to preempt its host, or just acting off its own hungry initiative, Kasoria's Spark unconsciously connects whatever is around him, for a rough five-foot radius. Exactly like he would if he were to cast Identify, his Spark whispers to him what it finds, its flaws and qualities, nature and history.
When he has direct contact with an object, though, the true nature of this mutation becomes much clearer. Touching or holding onto something for more than ten bits will result in his Spark start to begin Basing the substance, immersing it in ether and breaking it down at a fundamental level. Again, Kasoria can command the mutation to cease and "leave it alone", but it won't be long before it starts the process again. What he cannot stop, however, if the constant use of Identify, where his Spark relays all qualities and flaws of the materials around him. Much like "To Seek, To Strive", however, this mutation vanishes she he sleeps or is unconscious, and for the same reason. The mutations also slumbers while Kasoria is suffering from Overstepping of any kind, since it does not "want" to further compound damage it him and therefore itself by constantly using ether to Identify everything around it. The moment his inner well is restored, though, it awakens again.
When he uses his Transmutation abilities at a level more than Expert, this mutation manifests further in a swirling cyclone of crackling, flaring ether around Kasoria, as if the radius of effect has been ignited. Anything that comes within it that is capable of being Transmuted somehow, becomes immediately infused with his ether. Unlike the Revealed Ether Cyclone, however, this effect is not fatal to the ether of other mages caught by its winds, although it massively disrupts magic cast within it (apart from Kasoria's own, of course).
Two-inch scar on right bicep *
Three ten-inch parallel scars across back (Ithecal claw marks) *
Puncture wound on upper left back, just below the shoulder (crossbow bolt) *
Twenty distinct puncture scars across left shoulder down to the left pectoral (Ithecal bite marks) *
Distinct puncture wounds on right shoulder and right leg (crossbow bolts) *
Badly-healed scarring across stomach, from initial wound, cauterizing, and sewing (crossbow bolt) *
Wide, diagonal scar from pectoral to stomach (dagger) *
Six-inch slash to stomach (dagger) *
Deformed "cauliflower" right ear *
Wide gash on torso, under ribs, right side *
Broken nose *
Horizontal slash across chest *
Straight slash across middle of back (karambit) *
Numerous tattoos, mostly ganger insignia and Etzos-themed imagery, across back, chest, and both arms. Few additions have been made over the last decade or so, meaning most of the artwork is faded and starting to blur as the flesh ages
Transmutation Corruption - Patch Job:
Lasting scars that Kasoria gains will now not be constituted of tissue and flesh, but a hard, grey substance that resembles dead wood (although it is not literally wood, only possessing some qualities of such). After a near-disastrous Transmutation cast that saved his life, Kasoria's Spark has seeped into some of the healing properties of his body. Specifically, healing of wounds. Now, instead of red or black biological matter, there is a "plug" or thin line of stiff, unyielding wood-like substance instead. The growths (for that is technically what they are), do not pain him at all, nor are they inefficient when it comes to serving as healed matter. But flesh and blood, they are not. Depending on the size of the healed wound, they can present some hindrance to flexibility. The very first such wound, for example - a thumbnail-sized wound on his bicep - does not inconvenience him. But a larger, wider, thicker scar at, say, a joint or tendon, while only superficial as a scar usually is, would inconvenience him far more.
Once there was a boy, angry and unsatisfied, who wanted to be feared. Who was tired of being bullied by larger, stronger boys. He channeled this anger into violence, and as these things usually go, soon he was picking fights in all the wrong places. A lawman found him, quite by chance. Saw potential in the snotty, skinny kid with fast hands and a keen mind. So the boy became a recruit into the Black Guard instead, and to the surprise of all, he took quite well to it.
This too, was not to last. In one horrific clutch of hours, the boy's hope for his future and belief in justice was destroyed, along with half his family. Only great sacrifice saved him from the block and banishment. But he was a pariah in his hometown; none but his father would speak with him. Drudgery awaited him again, and this time with no escape to be found.
Only the underworld accepted him. Saw his skills, his training, his abilities, and the cold blood he'd proven he possessed. This was where Kasoria was truly born. As a killer and swordsman for coin. This was his life for nearly thirty arcs, and it has left hideous marks on his mind. Repeat anything enough, no matter how vile or savage, and it will become trivial. There are no exceptions, even in a world infused with such magic as Idalos possesses. Kasoria's soul has become callused to the horror of what he's done; numbed to the shock and disgust that would seize others upon committing them.
But Kasoria is not a dumb brute, and that is his curse. He's a learned man, of books and reading and, most terrible of all, self-awareness. He knows what he is, and part of him laments his past. But he faces what he is, and has done. Some would say he is damned already, doomed by the river of blood soaking him across the arcs. Others would argue he enough rough, warped morality in him to turn back from the brink. For while he is brutal, he is not wanton. While he is a killer, it is never without cause, and he possesses the capacity for love and respect, humor and kindness. Such things are being rediscovered by him, in the turbulent arcs after 718.
His son has brought them out in him. The people he has met, the master he has lot, the adventures he has been on. The Raggedy Man of Etzos is dead, and this applies as much to the mind as the myth. Kasoria still lives, and he still has hope. Yet even he seems blind to the continuing price his burgeoning Abrogation Spark is drawing from him. His mutations have already resembled him unrecognizable, though his cynical and macabre outlook has not changed. As he inches further towards Revelation, he runs the risk of losing the rest of what makes him "Kasoria". But that is the price of power.
His story started in the poor part of town, in the heat and the dark of a Ymiden night. There were no omens ill or favorable, for he was but another child among thousands born that year. His parents worked and strove and loved and fought and cried and even quietly prayed, two more doting parents among many. He was a small and quiet child, but stronger than the two they had lost before. Yasmina thought he would be their only child, though she prayed hard for a daughter. Six years later she would get her wish, but in that heated night in the middle of the 673rd Arc, Yasmina gave birth to Kasoria, and Rama rejoiced in having an heir to the modest store he had built up from a threadbare stand in the Citizen's Market outside the city walls.

The boy grew up, joined by a sister, Lilith, both short and swarthy and dark-eyed. His slight size meant he was sometimes picked on, but speed was on his side, as well, and when he could not run, his tormentors found that a feral violence stirred in him, too. He played in the streets and the caverns below the city. He wandered them like all children did, acting like an uncrowned prince exploring his future kingdom, unanswerable and free to go where he liked, as long as adventure awaited. By the time he'd reached his tenth birthday, the meandering focus of childhood had hardened into a few definite traits.

First of all, he held no truck with the whispered faith of his mother, with her little clay idols of Immortals she tucked away when she wasn't worshiping. Second of all, he was quietly aghast that a life of bagging dried goods and household menials waited for him, working in his father's store. Thirdly, he loved them both, and his sister, and the distant family that they visited every late-Saun, venturing north of Etzos to holiday with cousins and aunts and uncles.

Last of all, he knew how to fight. He was small and slight, but not weak nor afraid, and when he fought, he held nothing back. As childhood grew into the strength and aimless fire of youth, Rama watched his son grow with concern. He was proud that his son, sadly like himself in his height and build, was able to defend himself, even if his "technique" was more brawling than boxing or wrestling. But self-defense was fast turning to compulsion, delight in the chaos of fighting. He shirked his chores and beatings obviously held no fear for him. Only his sister's gentle, determined persuasiveness seemed to cool the fire in the boy's hear, if only for a while.

Rama and Yasmina turned to their wits and their faith for answers. But in the end, it was Etzos that provided one.

Every barroom brawler knows that there are some men you don't hit. Sometimes they find that out the hard way, like Kasoria did. He woke up in the Hall of Rule and Reprimand, a boy seventeen arcs old and already with the knuckles of a grown man, and the scowl of a bitter one. He woke up to bruises and a hangover, and an armored figure staring inquisitively down at him.

The man smiled, and asked him what he wanted to be in life. Kasoria answered with the truth: a free man, out of the damn cell. The armored man nodded, and said all he had to do was get past him.

Kasoria tried, and laid exactly one punch on the man. It cost him three broken fingers and a breezy speech about the stupidity of trying to rip the ears away from off-duty members of the Black Guard in a lonely Outer Perimeter watering hole. As the boy lay panting and spitting blood, the man said something else to him.

Offered, in fact.

Sergeant Tantos was not a recruiter, but had an eye for talent. A Black Guardsman was a match for most thugs in Etzos, and this brat had nearly bested two of them before he'd clobbered him around the ear from behind. Such a waste, if he was allowed to continue in the gutter, maybe even go so far as to be locked down here and just be... forgotten. Tantos decided to do something about that, and being a former gutter rat himself, knew just how to sell it.

Kasoria came home to a worry-stricken family bruised, limping, wearing a cadet's uniform and bearing his first season's pay in advance. He was going to be a Black Guardsman. Yasmina thanked the gods in a silent whisper, and the more worldly Rama stared with pained eyes, but eventually congratulated his son. It was not the answer he was expecting, but it was a better future nonetheless.

Cadet training passed by in a whirl, and Kasoria was surprised to find that he quite liked it. Not just the nice bed and good food and combat training, but the sense of something solid and real and breathing that he was part of. Something greater than himself. He walked straighter and prouder. He steered clear of the thugs and gangers he'd called brother before. He had a higher calling now, and the future was bright.

So has said many a man, before night falls.

Lilith loved her mother, and shared her faith. When Yasmina prayed to her little clay idols - to Chamadarst for her husband, Chrien for her son, Ethelynda for her daughter - her daughter was there with her. Like her brother, she had no fear of others, nor their opinions. Though it gained her scorn and jeers, she was unafraid to confess her faith, and said she would pray also for those that sneered at her. The Immortals were flawed, but they could be good, she said. Her big brother was the perfect proof for that, and one day everyone would see.

She was wrong.

As so often happened in Etzos, disease spread through the Outer Perimeter. Families were shattered, loves torn apart, and Yasmina succumbed along with the rest. Lilith tended to her every break, insisting that her brother would visit her, hold her hand and be there for... whatever followed. But it was not Kasoria that came to the door. It was a gang of wild-eyed men, grieving and vengeful and ignorant and scared in all parts. They sought scapegoats, and the confessed Immortal-worshiper was an obvious target. Lilith rounded on them without fear, noting that her own mother was one of the sick, but it did her no good.

They wanted blood. They took it. From both of them.

Tantos tried to stop Kasoria from finding out, then tried to stop him going back to the old neighborhood. He failed both times. He sent out cadet patrols, ordered them to the bars and groghouses and pubs and even the underground shebeens everyone pretended to know nothing about. Spread the word that the killers of the two women were to seek protection, or invite death. They were too late. A commotion was reported. Fighting. Fire. Death. Horror. Tantos and a detachment found a house in flames and a wounded man outside.

A gladius in each hand. Red from tip to hilt. Face shattered as a broken vase, staring at the flames... and the corpses he'd left inside.

Kasoria never found out why he wasn't exiled, or just locked away and left to die. He knew only that Tantos was never seen again, and he was forbidden for even looking at the Hall he'd called home for arcs. At twenty years old he was on the streets, with his broken father and working in a pokey little store where every day was the same. Rama knew what would happen. How he would backslide. Only now it was with honed skilled and trained fists, studied in a graceful but savage fighting art, first learned on the streets and now hones as a cadet. The angry young man had become a weapon, without a hand to grasp or direct it.

But there were always those willing to pay for a grip, as it were.

Years passed. Father and son grew apart as son grew darker in deed and thought. Rama knew how his son was able to afford to move out of his family's house. He knew how he was able to afford food and drink and clothes and rent and everything else. On some rare nights, his friends would mention seeing him, hands stained and feet swift. Or they would share some gossip and quickly censor his son's name when they came to some scandalous and mortal deed done in the darkness.

His son was a killer, and Rama knew it. He died with that knowledge, heart giving out as he stacked shelves one morning, no wife or daughter to hear his last breath. No son left who would care to. Or so he thought.

Those who assumed Kasoria despised his weak father would have been proved mistaken. As far as can be told, he became bolder, reckless, even seeking death in the years that followed. His "assignments" for racketeers and smugglers and petty gangland warlords took him across the breadth of the city and beyond. But under all the bodies and blood was an aching, trembling desire for peace. The only peace a man like him could hope for.

Then the strangest thing happened.

He was handed a bundle of rags from an exhausted midwife. He looked down into sleepy eyes and in that single moment, his rudderless life ran aground and would never be moved. A breathless whore chuckled from the soaking bed and asked him what he thought of the name she had picked out for his son.

Kasoria doesn't remember answering. Just nodding. Unable to look away.

The man that walked into Vorund Storage and Leasing was so different in character that the owner had to blink and squint to make sure it was the same man from before. Everything seemed the same, from the gait to the hair to the beard to the clothes, but there was a light shining out from the mercenary's face that was different. Not renewed so much as transplanted. As if some fresh spark for life had been added to embers growing cold, and now Kasoria spoke to him not as a freelance killer seeking a job, but a man asking a favor.

He wanted his son to be safe. He had made enemies, and would make more. They would punish his son if not him, and Vorund knew plenty of people. Guardsmen, lookouts, smugglers, forgers, dozens of contacts from all walks of life that could spirit a woman and her babe from the city without anyone noticing. True enough, Vorund agreed, but what was in it for him?

Kasoria drew his gladius, and laid it on the table. That was what he gave, and the promise that he would never take it back. Not while Vorund still lived.

That was eleven arcs ago, when the century was still young. Since then, Vorund's fortunes as a boss in Etzos' turbulent underworld had waxed and waned, sometimes merely a season apart, but Kasoria has always been his most dependable executioner. Paid well, of course, for every man had to eat, but always remembering the debt he owed the racketeer. Traitors, spies, competition, intractable clients and other such threats to Vorund's profits... all have met the slight, ragged man in some way. All never met anyone again.

And as a reward beyond coin, every other season Kasoria leaves Etzos, ventures into the strange world of grass and trees and brooks beyond the mortar and brick and stone of his living. He walks or takes a wagon, paying a few coppers for his seat, until he comes to a town north of the city. There he stays with some cousins who know little of what he does for a living, and are smart enough not to ask. They know he is polite and respectful, but spends much of his time wandering the town. Even spending it with a woman they know well, who came out there years before, with a bastard boy whose high-born father had abandoned, the poor dear.

Kasoria seems to like the boy very much. When he bids his cousins farewell, sometimes mother and child are there to say goodbye, too.
Kasoria spends most of 718 fulfilling his oath and function as Bangun Vorund's most valued killer. And Fates, but it is a busy year. A sloop of dead pirates in Foster's Landing. An exiled gangster and his bodyguards slaughtered in a Lowgarden. A renegade drug peddler and his entire gang in an Oh'Pee slum. All these and a half-dozen more incidents are linked to him. He also serves as Vorund's emissary and bodyguard as the Etzori underworld starts to heat up. New and shadowy players are afoot, threatening the old man's empire. Still, Kasoria does his job and keeps his boss alive. He even finds time to handle a... problem, for his distant son in Westguard, assuring that his youthful muschief doesn't lead to a mark on his record.

Just as importantly, Kasoria is initiated into Abrogation, courtesy of Sima. A semi-legendary figure in certain circles of Etzos, known both as a skilled teacher, expert mage... and Vuda's personal wizard-hunter. Seeing value in making a killer like Kasoria indebted to her, she passes on her gift, and Kasoria starts to eagerly nurture it.

But some things cannot be avoided, or controlled... or predicted. Before any external enemy can supplant Vorund, an internal one strikes. In Zi'da of 781, underboss Ilos ambushes the old man and his dog; in the chaos that follows, all save a couple of the ambushers are killed... or so it seems. Shot, stabbed, half-drowned and washed down-river, Kasoria survived... barely. And the agent of his salvation is certainly not charitable.

Kasoria is taken prisoner by a powerful Black Guard Commander with a side business. Namely, as a vigilante. Yusef has a special grudge against Kasoria, too. While the chosen man of Vorund, though, he was untouchable. Too useful to be taken off the board, not matter the vendetta. But with Vorund and Ilos dead and the Syndicate in shambles, there's no need for special treatment. Kasoria is chained and tortured for ten-trials as his old classmate tries to break him, magically and physically. Kasoria manages to escape, however, aided by an agent of Sima. The Rupture-gifted mage manages to force Kasoria into a portal, but dies before the destination can be properly defined... and Kasoria finds himself bleeding out, tortured, starved, confused... and landing in a heap in the middle of a street in Andaris. Halfway across the world.

The Fates have a sense of humor, though. Kasoria is on the edge of death when he runs across a civilian... and it happens to be an Etzori scumbag he knew from years before. Reluctantly, Finn helps the Raggedy Man, though his idea of help eventually leads to the two of them having to kill the necromancer who "heals" Kasoria. But that turns out to be nothing compared to the price of him leaving Andaris City. Specifically, aiding a half-feral assassin in killing the head of the Order of the Mantis, a notorious coven of mage-hunters. Kasoria infiltrates the royal castle with Qit'ria, slices and dices Lord Kayled Wine's bodyguards, leaving him for the shapeshifting killer. They both barely escape the castle alive, fleeing the city together as the Cold Cycle comes to an end.

As tumultuous as the previous arc was for Kasoria, it would prove to be nothing compared to the one following it. After fleeing Andaris City and arriving in Rharne, Kasoria set himself to returning home, still several kingdoms and a whole ocean away. He did so by selling what he was best at: steel, violence, and death. He worked as a bounty hunter for Cylus, hunting down and wiping out a gang of river pirates and a notorious bandit king in the same season. His purse full and wounds healed, he made his way to Volta and signed up as a guard aboard a ship headed for Foster's Landing... until it wasn't.

Much to his frustration, a storm led the ship to sail for Yaralon instead. But only after breaking the pirate blockade of the port. Despite a hidden traitor in the crew leading to a furious battle with a reaver vessel, with Kasoria's help, the ship survived to make port. Then Kasoria simply had to wait for them to set sail again... only he never got back on that vessel. Nor was seen in Yaralon again.

He'd found a different way to get home. His forays into Dreamwalking had led Kasoria to befriend a mage named Llyr. Upon learning the young Quacian noble was headed to Etzos by ship and already close to port, he agreed to protect him if he could Cross over through the Dreamscape. The deal was made, and Kasoria crossed... onto another pirate vessel where Llyr was being threatened by a merciless crew, and a few moments later, a gigantic sea monster attacked it.

Which was not the kind of trouble he'd been expecting. Still, with nothing left to do but flee and eventually fight, Kasoria and the crew and the passengers did what they could. With hulking ship-mounted weapons, magic, and steel, they tried to fight off the Leviathan... but in the end, it was an event hundreds of miles away that saved them. Without knowing why, the creature died, and the pirate ship was free to return home. Kasoria counted them all blessed by The Fates... until they got within sight of Etzos.

The country was aflame. From the southern reaches and jungles to the walls of the Citadel, Etzos was burning and dying. After an incomprehensibly huge event had essentially robbed all mages of their ability to use magic, the Plague Queen of Rhakros, Lisirra, had launched an invasion of her hated northern rival. Millions died. To sword, to plague, to beasts, then to chaos and hunger and disease. Thinking only of his son in Westguard but knowing he needed funds to get back across the country, Kasoria continued to serve as Llyr's bodyguard and guide. They made their way across the country, and Kasoria's furious anger only deepened as he saw more and more of what the Immortal had done to his home.

Westguard had, luckily, been spared most of the war's predations. Chaotic and evacuating but not yet assaulted, Kasoria found out that his son and the boy's mother had already fled for Hiladrith. Much like their father and former lover, they had a nose for trouble, and when to run from it. He gave his cousin money for the pair, and a letter for his son. Then he turned around, and went back to the big city. He loved his son. He missed him. But the season of atrocity was more than even a hardened killer could tolerate. The Plague Queen had to be destroyed and cast back into her hole. Perhaps for good.

When the remnants of the Etzori Army marched south, supplanted by legions of ghosts and aided, much to his shocked disgust, by the Immortal Sintra, Kasoria was among them. He was part of a company of "irregulars", raised from the shanty towns and ruins of the Outer Perimeter. Gangers, street daemons, bandits, sellswords... but all skilled killers, and no less patriotic than their "betters". He marches with them to the very end of the siege of Rhakros, and bears witness to Lisirra being butchered by... well... he isn't quite sure by what.

Thousands of men marched south. Several hundred irregulars. Only a few hundred left the nightmarish shadow domain Lisirra had fled into. Kasoria was one of them... but his war was not over.

Sintra had not aided Etzos out of pure generosity; she wanted to stay. An Immortal, wanting to make Etzos her home, basking in the appreciation of a grateful populace. Kasoria was not fooled, and he started seeking the truth. Aided by Llyr, Oberan, and a handful of others, he tortured, questioned, killed and puzzled his way through the underworld. He found that the Spider Queen had her tendrils coiled around the highest echelons of Etzos... including Marshall Webb, Hero of Etzos. Enraged beyond measure by such base treachery, Kasoria enlisted the Mortalborn Llyr to infiltrate the Citadel and assassinate Webb. After a vicious fight, he succeeded... and then tried to tie off a loose end, by killing Llyr.

Stunned by the revelation that his closest companion was, in fact, the spawn of an Immortal, Kasoria had long decided to end him as soon as his use was over. Once Webb's neck broke, that was the time. But Llyr was no easy victim. Both mages tumbled through the waking world and the Dreamscapes and they fought, seeking advantageous ground... and attracting unwanted, hideous, unnatural attention. Finally coming to a halt in Kasoria's decrepit Oh'Pee home, the Raggedy Man found that he could not kill the Mortalborn. He was his friend, his ally... and he had not lied to him. For the first time in so very long, Kasoria stayed his hand... just as a monstrous entity born from the madness of the Emea burst into reality and tried to slaughter them both. But between Kasoria's sword and resilience and Llyr's magic, the two managed to survive, barely.

Kasoria ended the year nearly dead and crippled in a tavern just over the border from Hiladrith. Though still sought by the authorities, Kasoria was surprised to find their names and sketches weren't blazoned across the whole country. No, apparently Webb had been a touchy issue for many, and the primary powers of Etzos had just decided to... let his assassination slide, as it were. Sintra would not be happy, but apparently even she had no use for a dead man, so did not press the issue. Llyr left once Kasoria was able to travel again. Deciding to leave this broken, wounded land with its battered, hateful people. Kasoria chose to stay, of course. His son was not far, after all.
Kasoria started 720 getting sidetracked. To put it as mildly as possible. Encountering a smooth-talking sellsword in the Emea, he agreed to help the younger mercenary with a contract he had... at Storm's Edge castle. On the other side of the world. That part did not worry Kasoria too much: by now a seasoned Dreamwalker with a handful of portals strategically placed around the world (and upon a few key individuals), he could come and go as he pleased. But he was still cheated out of whatever bounty Matthias promised him, when he arrived at the castle and found it was "volunteers only".

Not his style at all. But still, he stayed. He decided to make what he could of his circumstances, and leave when he got bored... and it was a good thing he did. Matthias was initiated into Transmutation, and after seeing the ability in action, Kasoria decided to he wanted such a boon for himself. He made a vow to Matthias to aid him whenever he asked (just never specifying when), and after a short, painful ceremony, had a second magical ability to cultivate. The cantankerous but superlatively-skilled Vega also started teaching the Raggedy Man the finer points of archery, and within a couple of seasons, he could shoot somewhere close to as well as her.

Oh, yes. Seasons. Up until Ymiden, in fact. Fighting the unholy and impossible monsters known as the "Fireborn" that were being spewed out of the ground by unknown masters. Supposedly lackeys of the Immortals, Kasoria could have learned more... but honestly didn't care. He killed Firespitters and Fire Rams and Magnim and Flame Worms and worked on his archery, his Transmutation, even explored the wider world of the Storm's Wastes with the Knights of Rharne garrisoned at the castle. Yet he never had a personal investment in the mission, and since he wasn't going to get any coin from the arrangement...

It pained him to leave, though. Something that surprised him. He'd been living and working so long among the desperate, cynical, brutal and criminal, that he'd long since forgotten that men fighting a just cause had a bond far deeper than paid muscle. He even made friends among the warriors he fought beside, and the militia bumpkins he trained. Yet he'd learned all he could, and quietly filched what handful of items he decided were useful to him. Once he'd bled Storm's Edge for as much expertise as he knew he'd get, he opened another portal, and Crossed back to Etzos...

... only to find Sintra was very much still in power, and that influence was growing. Filled with an icy rage, a hissing indignation that even assassination and slaughter had not changed one scrap, Kasoria began hunting again. Linking back up with Oberan, he uncovered Sintra's plot to poison the minds of the Etzori quite literally. Drugging the water supply to make them mindlessly loyal to her, and increasing her own paramilitary power in the city with her "Web Guard", a cultish mirror to the Black Guard. Armed with a list of names and a growing picture of what was unfolding, Kasoria embarked on a private war against Sintra's followers.

But he also found time to handle... family business. He infiltrated the Hall of Rule and Reprimand, just to find Commander Yusef. The man who had chained, tortured, and mentally violated him, well over an arc ago. But when he had the Blackjack at his mercy, he did not end his life. No, their feud would have to wait. Vicious and stubborn bastard as he was, Yusef was no Morty-lover, and Kasoria knew he would be invaluable in fighting back Sintra and her minions. The two exchanged information, and parted on frosty terms, Yusef promising to "settle" their business as soon as the Spider Queen was banished.

That suited Kasoria fine: he had plenty more killing to do. A meeting between two underworld gangs, one of which was Sintra's premier lieutenant in the underworld? Wiped out down to a single survivor, who was set loose only to spread the word: the Raggedy Man was coming for all Morty-lovers. At the beginning of Zi'da, a Sintraist camp was all but obliterated north of the city, at the riverside settlement where they'd been dumping her mind-altering chemicals into the water. Kasoria cleared it out by himself. But one man could not wage such war forever, not without attracting attention. At the end of Zi'da, he was finally captured at Speckled Jim's Tavern, along with fellow "resistors" Oberan and Ulric. Expecting a quick trial and a quicker death, Kasoria discovered that High Marshall Parhn had grander plans for him. A special "gift" to Sintra, Savior of Etzos, to start the Rebirth Cycle properly...
Far removed from the cramped row house in the Outer Perimeter that Kasoria used to call in home, his house outside Westguard still smacks of his sparse, practical manner. A cottage that was rebuilt after the 719 invasion and the chaos that came with it, the three-room building is more spacious than one would think. Comprising a bedroom, bathroom, and dining/living room beyond the front door, it also sits on an acre of land. Ringed by a fence, Victus the horse also roams the grass surrounding it, save for when he rests in the shelter/stable round the back of the property.
One set of clothing, all of Poor Quality (brown coat, white, black pants, undergarments, a pair of boots)
One pound of pipe tobacco *
One Bottle of Upton's Economical Whiskey *
One wooden pipe *
Iron Throwing Knife x6, with Underarm Sheaths *
A detailed map of several secret passages from the Commercial Circle into the Citadel, and a list of informants kept by the late Bangun Vorund, including individuals of magical, criminal, and political influence *
1 bracelet made of foreign coins, 1 immaculately-polished brass hairpin, one wooden abacus (All poor quality) *