Kasoria of Etzos
Show No Pity in A City Full of Sin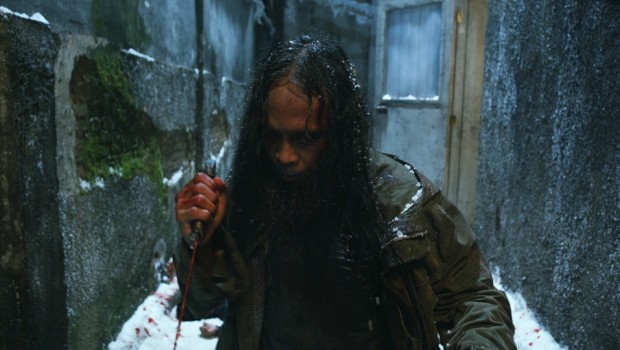 Name:
Kasoria
Age:
45
Race:
Human
Date of Birth:
9th Day of Ymiden, 673
Marks:
None
Factions Joined:
None
Languages Spoken:
Common Tongue (Fluent), Ith'ession (Broken)
Partners:
None
To say that Kasoria is not what one would expect from an assassin would be a fine exercise in understatement. If one were to see him go about his usual rounds, clothes years old and ill-kept, hairy as a monkey and about as graceful, the impression given would be that he's just another derelict. Too lazy or luckless or unskilled to make it in a city built on hard labor and strong work ethic.
So long has Kasoria worn that mask, he rarely sheds it. One time it falls away is when he dons what seems to be the one clean set of clothes he owns, trims his beard and past-the-shoulder length hair, and goes... well, no-one is really sure. The other time is when his true profession and lifelong gift comes to the surface. Then "derelict" and "vagrant" flee from your mind, and words may fail to describe what follows.
Kasoria is a man who knows exactly what he is, and doesn't much like it. But he only knows how to be what he is and, coupled with a puritanical streak, he seems to be driven towards equal parts indulgence and self-loathing. His whole life he has known only violence and the labyrinthine society of Etzos. The latter he has little patience for, its complexity and lack of sincerity being one thing that can rouse his rare but terrible temper. The former is quite simply the one true talent he has always had. From gutter fights as a little boy to bar brawls as a youth to murder as an adult, Kasoria is good at what he does. Very good.
And he wishes he wasn't almost as much as he prides himself in it.
Kasoria seems determined to live a simple life, split into easily-manageable sections he can control without stress, but seems stymied by reality and his own past mistakes. As such, his personality can vary wildly dependent on circumstances. Most of the time, he is humble and soft-spoken, the model of the good boy his mother would have wanted him to be. He feels he needs to be this, a gentle soul well-known in his neighborhood... but that is not the whole story. What he becomes when his master points him in the right direction is merciless, brutal, and without a shred of remorse. Kasoria may deceive himself that it is the thrill of contest and the adrenaline rush of violence that drives him, but in his dark moments, when it's naught but himself to justify anything to... he admits he enjoys his work.
If Kasoria has any hope in being something more than the fractured, almost schizophrenic man he is, that hope lies in subject of the trip he makes every few months to a town outside of Etzos. When he returns, even the blind and mad can see the change come over him. But his "work" takes it toll, the positive, hopeful glow fades, and he becomes the ghost again. A weapon in rags.
His story started in the poor part of town, in the heat and the dark of a Ymiden night. There were no omens ill or favorable, for he was but another child among thousands born that year. His parents worked and strove and loved and fought and cried and even quietly prayed, two more doting parents among many. He was a small and quiet child, but stronger than the two they had lost before. Yasmina thought he would be their only child, though she prayed hard for a daughter. Six years later she would get her wish, but in that heated night in the middle of the 673rd Arc, Yasmina gave birth to Kasoria, and Rama rejoiced in having an heir to the modest store he had built up from a threadbare stand in the Citizen's Market outside the city walls.
The boy grew up, joined by a sister, Lilith, both short and swarthy and dark-eyed. His slight size meant he was sometimes picked on, but speed was on his side, as well, and when he could not run, his tormentors found that a feral violence stirred in him, too. He played in the streets and the caverns below the city. He wandered them like all children did, acting like an uncrowned prince exploring his future kingdom, unanswerable and free to go where he liked, as long as adventure awaited. By the time he'd reached his tenth birthday, the meandering focus of childhood had hardened into a few definite traits.
First of all, he held no truck with the whispered faith of his mother, with her little clay idols of Immortals she tucked away when she wasn't worshiping. Second of all, he was quietly aghast that a life of bagging dried goods and household menials waited for him, working in his father's store. Thirdly, he loved them both, and his sister, and the distant family that they visited every late-Saun, venturing north of Etzos to holiday with cousins and aunts and uncles.
Last of all, he knew how to fight. He was small and slight, but not weak nor afraid, and when he fought, he held nothing back. As childhood grew into the strength and aimless fire of youth, Rama watched his son grow with concern. He was proud that his son, sadly like himself in his height and build, was able to defend himself, even if his "technique" was more brawling than boxing or wrestling. But self-defense was fast turning to compulsion, delight in the chaos of fighting. He shirked his chores and beatings obviously held no fear for him. Only his sister's gentle, determined persuasiveness seemed to cool the fire in the boy's hear, if only for a while.
Rama and Yasmina turned to their wits and their faith for answers. But in the end, it was Etzos that provided one.
Every barroom brawler knows that there are some men you don't hit. Sometimes they find that out the hard way, like Kasoria did. He woke up in the Hall of Rule and Reprimand, a boy seventeen arcs old and already with the knuckles of a grown man, and the scowl of a bitter one. He woke up to bruises and a hangover, and an armored figure staring inquisitively down at him.
The man smiled, and asked him what he wanted to be in life. Kasoria answered with the truth: a free man, out of the damn cell. The armored man nodded, and said all he had to do was get past him.
Kasoria tried, and laid exactly one punch on the man. It cost him three broken fingers and a breezy speech about the stupidity of trying to rip the ears away from off-duty members of the Black Guard in a lonely Outer Perimeter watering hole. As the boy lay panting and spitting blood, the man said something else to him.
Offered, in fact.
Sergeant Tantos was not a recruiter, but had an eye for talent. A Black Guardsman was a match for most thugs in Etzos, and this brat had nearly bested two of them before he'd clobbered him around the ear from behind. Such a waste, if he was allowed to continue in the gutter, maybe even go so far as to be locked down here and just be... forgotten. Tantos decided to do something about that, and being a former gutter rat himself, knew just how to sell it.
Kasoria came home to a worry-stricken family bruised, limping, wearing a cadet's uniform and bearing his first season's pay in advance. He was going to be a Black Guardsman. Yasmina thanked the gods in a silent whisper, and the more worldly Rama stared with pained eyes, but eventually congratulated his son. It was not the answer he was expecting, but it was a better future nonetheless.
Cadet training passed by in a whirl, and Kasoria was surprised to find that he quite liked it. Not just the nice bed and good food and combat training, but the sense of something solid and real and breathing that he was part of. Something greater than himself. He walked straighter and prouder. He steered clear of the thugs and gangers he'd called brother before. He had a higher calling now, and the future was bright.
So has said many a man, before night falls.
Lilith loved her mother, and shared her faith. When Yasmina prayed to her little clay idols - to Chamadarst for her husband, Chrien for her son, Ethelynda for her daughter - her daughter was there with her. Like her brother, she had no fear of others, nor their opinions. Though it gained her scorn and jeers, she was unafraid to confess her faith, and said she would pray also for those that sneered at her. The Immortals were flawed, but they could be good, she said. Her big brother was the perfect proof for that, and one day everyone would see.
She was wrong.
As so often happened in Etzos, disease spread through the Outer Perimeter. Families were shattered, loves torn apart, and Yasmina succumbed along with the rest. Lilith tended to her every break, insisting that her brother would visit her, hold her hand and be there for... whatever followed. But it was not Kasoria that came to the door. It was a gang of wild-eyed men, grieving and vengeful and ignorant and scared in all parts. They sought scapegoats, and the confessed Immortal-worshiper was an obvious target. Lilith rounded on them without fear, noting that her own mother was one of the sick, but it did her no good.
They wanted blood. They took it. From both of them.
Tantos tried to stop Kasoria from finding out, then tried to stop him going back to the old neighborhood. He failed both times. He sent out cadet patrols, ordered them to the bars and groghouses and pubs and even the underground shebeens everyone pretended to know nothing about. Spread the word that the killers of the two women were to seek protection, or invite death. They were too late. A commotion was reported. Fighting. Fire. Death. Horror. Tantos and a detachment found a house in flames and a wounded man outside.
A gladius in each hand. Red from tip to hilt. Face shattered as a broken vase, staring at the flames... and the corpses he'd left inside.
Kasoria never found out why he wasn't exiled, or just locked away and left to die. He knew only that Tantos was never seen again, and he was forbidden for even looking at the Hall he'd called home for arcs. At twenty years old he was on the streets, with his broken father and working in a pokey little store where every day was the same. Rama knew what would happen. How he would backslide. Only now it was with honed skilled and trained fists, studied in a graceful but savage fighting art, first learned on the streets and now hones as a cadet. The angry young man had become a weapon, without a hand to grasp or direct it.
But there were always those willing to pay for a grip, as it were.
Years passed. Father and son grew apart as son grew darker in deed and thought. Rama knew how his son was able to afford to move out of his family's house. He knew how he was able to afford food and drink and clothes and rent and everything else. On some rare nights, his friends would mention seeing him, hands stained and feet swift. Or they would share some gossip and quickly censor his son's name when they came to some scandalous and mortal deed done in the darkness.
His son was a killer, and Rama knew it. He died with that knowledge, heart giving out as he stacked shelves one morning, no wife or daughter to hear his last breath. No son left who would care to. Or so he thought.
Those who assumed Kasoria despised his weak father would have been proved mistaken. As far as can be told, he became bolder, reckless, even seeking death in the years that followed. His "assignments" for racketeers and smugglers and petty gangland warlords took him across the breadth of the city and beyond. But under all the bodies and blood was an aching, trembling desire for peace. The only peace a man like him could hope for.
Then the strangest thing happened.
He was handed a bundle of rags from an exhausted midwife. He looked down into sleepy eyes and in that single moment, his rudderless life ran aground and would never be moved. A breathless whore chuckled from the soaking bed and asked him what he thought of the name she had picked out for his son.
Kasoria doesn't remember answering. Just nodding. Unable to look away.
The man that walked into Vorund Storage and Leasing was so different in character that the owner had to blink and squint to make sure it was the same man from before. Everything seemed the same, from the gait to the hair to the beard to the clothes, but there was a light shining out from the mercenary's face that was different. Not renewed so much as transplanted. As if some fresh spark for life had been added to embers growing cold, and now Kasoria spoke to him not as a freelance killer seeking a job, but a man asking a favor.
He wanted his son to be safe. He had made enemies, and would make more. They would punish his son if not him, and Vorund knew plenty of people. Guardsmen, lookouts, smugglers, forgers, dozens of contacts from all walks of life that could spirit a woman and her babe from the city without anyone noticing. True enough, Vorund agreed, but what was in it for him?
Kasoria drew his gladius, and laid it on the table. That was what he gave, and the promise that he would never take it back. Not while Vorund still lived.
That was eleven arcs ago, when the century was still young. Since then, Vorund's fortunes as a boss in Etzos' turbulent underworld had waxed and waned, sometimes merely a season apart, but Kasoria has always been his most dependable executioner. Paid well, of course, for every man had to eat, but always remembering the debt he owed the racketeer. Traitors, spies, competition, intractable clients and other such threats to Vorund's profits... all have met the slight, ragged man in some way. All never met anyone again.
And as a reward beyond coin, every other season Kasoria leaves Etzos, ventures into the strange world of grass and trees and brooks beyond the mortar and brick and stone of his living. He walks or takes a wagon, paying a few coppers for his seat, until he comes to a town north of the city. There he stays with some cousins who know little of what he does for a living, and are smart enough not to ask. They know he is polite and respectful, but spends much of his time wandering the town. Even spending it with a woman they know well, who came out there years before, with a bastard boy whose high-born father had abandoned, the poor dear.
Kasoria seems to like the boy very much. When he bids his cousins farewell, sometimes mother and child are there to say goodbye, too.
Kasoria's home outside the city walls to the south-east is as sparse and impersonal as one would expect from a man who walks around resembling a beggar most of the time. One would even argue that given his lack of possessions, it's probably twice as much as he requires. A bedroom with a termite-eaten bed, a washbasin for hygiene, a table with two chairs, and a handful of worn books. Even his cutlery and cooking supplies only take up one small cupboard, easily fitting on top of the stove.
One set of clothing, all of Poor Quality (brown coat, white, black pants, undergarments, a pair of boots)
One Set of Toiletries: Soap, A comb or brush, razor, toothbrush, toothpaste,
One waterskin
Two sets of eating utensils
Tinderbox
Four books: History of Etzos, War on The Immortals, Practical Recipes, and Human Workings
First Aid Kit
Vial of Scarf Rot x6 *
Vial of Ghost Mushroom x7 *
Whetstone *
Makeshift and oft-repaired training dummy, made from planks, rope, rags, and old clothes *
Second homemade dummy, this one less damaged, mainly used for throwing knife practice *
Special Item (Local Renown)
Item:
K'Vosh Tera ("Traitor's Claw", in Ith'ession)
Description:
A steel karambit with a polished oak handle; the blade is inlaid with intricate and strange patterns
Enchantment:
Once gripped, Kasoria feels an odd warmth emanating from the karambit, though not enough to be harmful. The blade can block the pain inflicted by blows received by him, and direct it
back
through the next strike of the blade. For example, a slash on his arm will not be felt, and whenhe next cuts his attacker, they will suffer both the pain of the blow itself,
and
the pain of the blow that was inflicted upon Kasoria. Note that while the pain of these blows to Kasoria won't be felt, the damage is still very real, whatever that may be.
However, the effects of the Claw only last for as long as it is being
used
. Once disarmed or sheathed, Kasoria will feel the full nervous pain of those wounds that the blade absorbed, which will be quite a shock to the system. The blade also cannot "store" the pain from multiple wounds and re-inflict them all at once when his retaliation connects. However, more than half-a-dozen wounds and the enchantment on the blade will be overwhelmed, and Kasoria will feel all of them at once. Once that's happened, however, the blade "resets" and begins absorbing the pain from fresh blows anew.