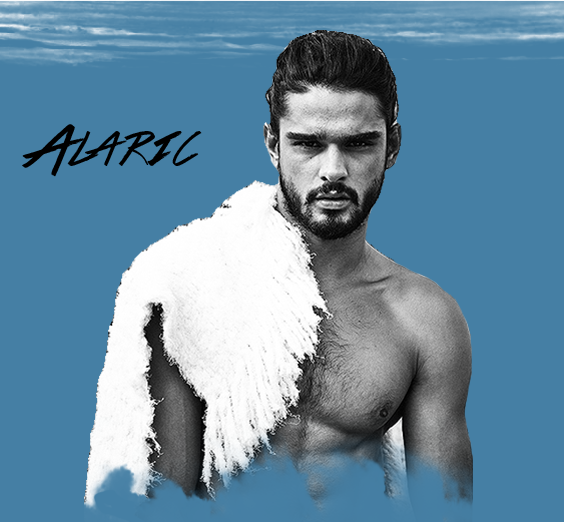 [4th of Ashan, Arc 716]
No matter how much time would pass between the first day Alaric ever held a blade and the current day he would never stop returning to the basics. Fighting was in his blood, in the essence of life passed down from his father. Closing his eyes the man could recall all the stories he had ever heard about the swashbuckling days of his parents. Oh how he loved to be regaled with those tales. All were adventures of heroism and bravery, never evil nor malice. Alaric always wanted to be like him, strong of heart and body and capable of anything. The yearning he felt inside his very soul had him aching every day, every night for the chance to be master of his own ship and himself. Feeling the dirt against his back when he moved subconsciously brought him out of the trance he had put himself in. A hand shaded his eyes from the sunlight over head; looks as if he had wasted more time than he intended. He leaned up and stretched his arms overhead, leaning one and and the other to keep the muscles from straining. Air popped between joints as he rolled them and pulled on his body. Once he was limber Alaric moved to a more open space that was often used for training.
A long time ago he had fashioned a number of sticks in to makeshift 'blades'. They were blunted for the purpose of training and truthfully not that well made. He was no master whittler but at least he had something to practice with. Out of the three different ones Alaric chose the longest and thinnest. His hand smoothly slid over the well-worn handle. So many times had he done this that the wood seemed to remember the shape of his fingers. Pulling at the rope he used as a belt Alaric fashioned a quick sloop and slid it in. The first step to fighting started before even the first weapon was drawn. With trained eyes he scanned the surrounding area. For his current location this would be a simple task. He had a ten foot by ten foot packed down area of dirt. For months now it had been tramped down by none other than himself. Every time he came the first thing he did was clear the makeshift battlefield. Pebbles and rocks would surface and branches from nearby trees would fall. In a real battle these could prove fatal. One misstep and anyone, even the most accomplished swordsmen, could find themselves face down in the dirt. From there it was a short step away to having a sword embedded in your back. Alaric definitely wanted to remain stab-free so he took the time to remove these pieces. Once the zone was clear Alaric walked to the center of it.
There were so many different situations Alaric could find himself in. There was a real difference between dueling a man who has agreed to honor a code versus fighting scoundrels for your life. Assessing what you were up against and entering with a clear head could very well save someone from death. Alaric had first hand seen what blinding rage could do to someone in the thick of it. They would forget the most basic things in defending yourself and turn in to brutish animals. What made people so special from beasts was that they could think. The mind was a weapon just as a blade was. Clear thoughts kept from making clouded judgments. In that mindset and coupled with ample skill one warrior could take down a dozen all on their own.
[/align]