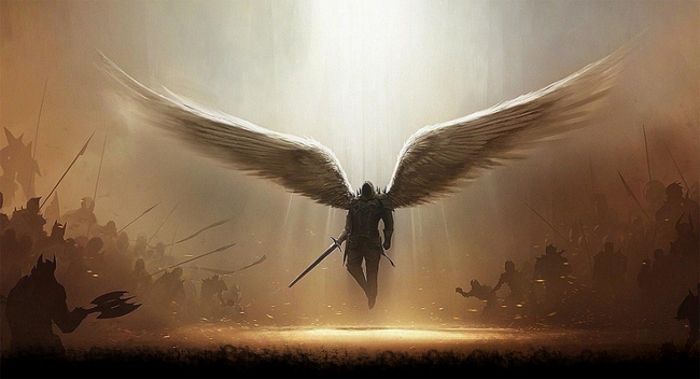 Arch 713, 4th Trial of Ashan
Pain. Aching pain laced through the muscles in his wings and shoulders. Even his arm was sore, the swinging of his weapon taking more of a toll on his body than he cared to admit. It hurt his head even thinking about what it would be like to carry a full set of armor and fly. It would be a rough week.
Kydrel lay in bed, morning sunlight spilling into the hollowed out cave that he called home. High above the ground, carved into the Forest of Stone, the Avriel dwelt with the rest of his kind. Orientation had been completed the day prior and the physical beating they had received from each other from their duels still fresh in his memory.
But today was the day they actually learned technique.
The Avriel groaned as he rolled out of bed, gingerly flexing the muscles in his wings, wincing as they throbbed dully. He rolled his shoulder, kneading out the muscle with his other hand, hoping to loosen it up. It needed to be at least somewhat moveable for the training he was about to put it through. He already wanted to crawl back into bed and the day had barely even started yet.
The yellow eyed warrior went about his morning ritual quickly, wanting to get to the platform early. Maybe he could talk to a few of the trainers, get a few pointers. He fully intended on out doing all the rest. Hopefully the trainers would see that drive in him and he could have the chance to impress them. Tossing together a quick meal, he scarfed it down, fantasizing about the upcoming fights.
I'm probably not the best out of the group, seeing how things went with Elayan yesterday. But there is no chance I'm the WORST. I saw some pretty badly busted up people yesterday. You don't look like that unless you are just plain terrible. I'd assume I'm at least in the top ten percent. Maybe fifteen.
Feeling a tad more confident about his win/lose fight the day before and having justified his purely hypothetical standing amongst his peers, Kydrel hurriedly dressed and snatched up his morning star, heading toward the entrance of his sparsely decorated cave, motivation starting to kick in. He inhaled deeply, enjoying the cool air rush through his nostrils into his lungs before releasing it into the wind. Without even bothering to look at the familiar view, the Avriel coiled the muscles in his legs and sprung off the ledge into thin air.
Kydrel dropped like a stone, plummeting through the morning air, a rush of exhilaration filling him, a rare grin spreading across his face. He never felt more alive than when flying. The thought of being land locked was horrifying to him. This was true freedom. But the ground was coming up fast.
The Avriel's dark wings snapped open, catching the wind.
"Holy mother of Syroa."
He cursed in irritation and pain, his wings vehemently protesting against the strain. He pushed through it, hoping they would loosen up by the time he arrived. Kydrel angled his body, straightening out from his dive and gliding easily through the breeze. As much as he enjoyed the feeling that came with flight, he wanted to make it to training day early and so picked up the pace.
It wasn't long before Dominion's training grounds came into view. A scowl crossed his face as he drew closer, the stone column dotted with people milling around on it. Apparently he wasn't the only one to think to arrive early. Clearly a bunch of brown nosing recruits trying to wheedle their way into the trainers favor. He exhaled loudly in frustration, gliding through the air, preparing to land. It didn't matter. They might be earlier but he would prove to be the better fighter.
Landing on the edge of the stone platform, Kydrel hop skipped to a stop, tucking his achy wings against his back and strode forward, heading towards the group of Avriel, cloaking himself in an aura of annoyance. He didn't feel like interacting with anyone, still irked at being outdone. Maybe if he played it cool and aloof people would hold back and leave him alone. The unknown was always something to question; if no one knew anything about him or was afraid to talk to him, he could use that intimidation factor to his advantage.
"OHHH HEY! IT'S KYDREL! MY NEW FRIEND! GREAT MORNING TO BE ALIVE, AM I RIGHT?!"
Or not.