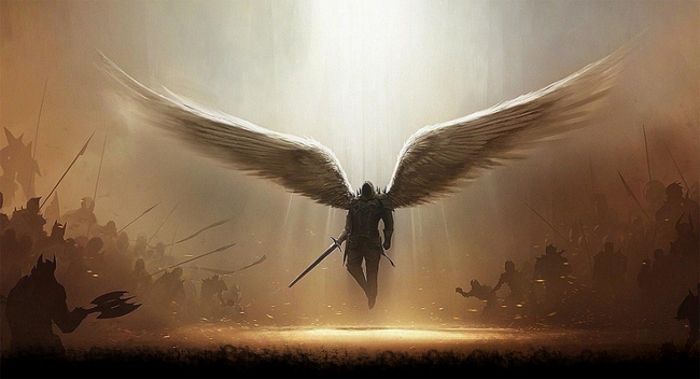 Arch 713, 3rd Trial of Ashan
It had finally begun.
A sense of excitement filled Kydrel, a feeling he knew was felt by the other nineteen students standing huddled in the cave. A general murmuring filled the cavern, none sure what to expect but all enthused at being accepted into the Dominion school. They were all on their way to serving in some of the most esteemed roles in Athart. The only thing holding them back was the long two year climb to graduation…
The sudden disappearance of light from the mouth of the cave, caused a hush to fall over those assembled. Kydrel craned his neck, trying to get a glimpse over the wings of the others and see what was stirring up the group. A figured blocked the light, the silhouette cutting an imposing figure. Its' wings shook themselves out before retracting and settling behind the Avriel. The shadow strode forward, stern features finally coming into view.
Dark red feathers covered the Avriel's wings, intricate designs decorating the man's armor as he marched toward them, hands clasped behind his back. He had already begun speaking before having even reached them, not wasting time. There was a clear, no nonsense demeanor evident in his voice as it echoed through the cavern, commanding their attention immediately.
"My name is Swordmaster Hawrek, I am ahead of this facility along with Spearmaster Cree who is not here presently. You will refer to me as Swordmaster Hawrek, and nothing else. Understood?" There was a jumbled concession of agreement.
"I said, am I
UNDERSTOOD?
"
The crowd of new recruits chanted together, somewhat half haggardly but still semi-understandable, "Yes Swordmaster Hawrek!" He nodded once.
"Good. Let us begin."
--
The orientation went on for what felt like an eternity. Kydrel was beginning to feel his attention wane when one of the recruits standing next to him, leaned in.
"For a battle hardened warrior, Swordmaster Hawrek sure seems a little long winded, wouldn't ya' say?" Kydrel glanced toward to the source of the whispered voice in mild surprise. A short, excited looking Avriel stared at him, a smug look on his face. He seemed completely unworried about being heard making jabs about their superior. Kydrel arched an eyebrow, acknowledging him, hoping that would suffice as an answer, before turning back to listen.
The other warrior-in-training would have none of that. He nudged the black winged Avriel, trying to get his attention, continuing to whisper fervently.
"The names Vyndar. I'm itchin' to get started. What about you? I've always wanted to be a part of the Overguard. Job looks like a cake walk. Hangin' out all day, lookin' like a badass. Ladies will dig it. What about you? What are you wanting to do?"
Kydrel sighed inwardly, glancing sideways again at the chatterbox. He was certain the Swordmaster would hear and they would both get in trouble. But apparently the trainer was too absorbed in his speech to notice them. Kydrel decided to answer, if only to keep the chatty Avriel quiet. The last thing he needed was to drawn the wrong kind of attention to himself on the first day.
"Kydrel. Don't know yet."
He lied under his breath, just loud enough for Vyndar to hear. He had no desire to share that information with a stranger. It wasn't that important, but he valued privacy. If he took the time to reflect on it, he might realize he didn't trust people. But he pushed those stray thoughts away. He needed to focus.
They were finally released, and Kydrel caught the tail end of the Swordmaster's words. They were told to go to the armory and pick out their weapon of choice. One of the recruits raised her hand.
"Excuse me, Swordmaster Hawrek, why would you give us weapons before training us in their use?"
"What, afraid you might hurt yourself?" Hawrek replied, eyebrow cocked, an edge of mockery in his voice. A wave of muffled laughter filled the air and the recruit flushed red, dark blue wings covering her face slightly, whether in anger or embarrassment, Kydrel couldn't tell. The Swordmaster continued, after the laughter faded.
"The question is valid, however. You will not be issued an actual weapon made of steel. Instead you will be given a wooden replica of exact weight and size to mimic your choice. You will have to learn how to fly with the added weight until it becomes an extension of you. Might as well get used to it now, it's just going to get worst as we advance. Your wings are going to have to strengthen and become accustom to carrying a lot of weight. But I expect you all to be at the top of your game, regardless of how sore you are. The weak fail, after all."
Kydrel resisted the urge to ruffle his feathers in excitement. For whatever reason, it irked him to allow others to know what he was feeling and thinking. In spite of that, he was still thrilled to choose his weapon but also a little nervous what the added weight would be like. Realizing the group had started off without him; the Avriel shook the thoughts from his head and made his way after the group to the training armory, deeper into the cave.