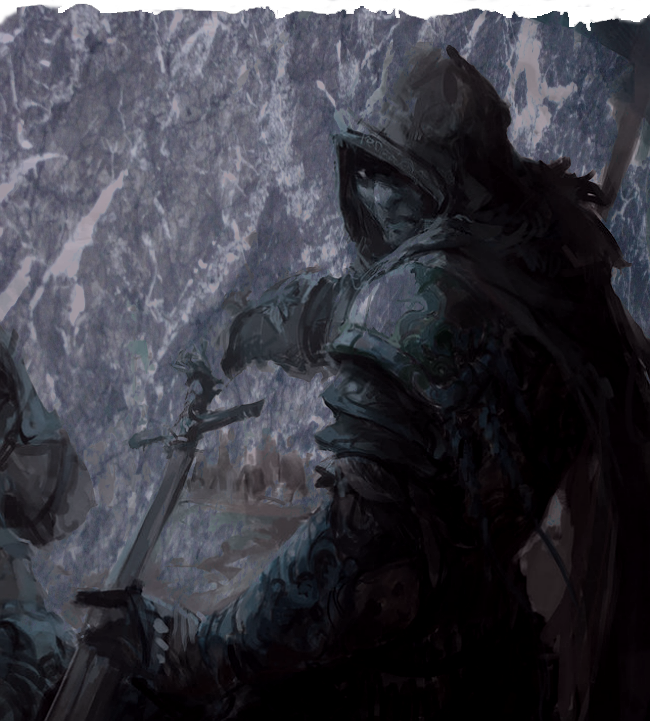 The click of a sword entering it's "home" sounded out through Sunai's words to the conscious assassin, Norgrim finally coming down entirely from the high as his body relaxed further still. His head turning, vision now returning entirely as his peripheral came back into view, the young male finally took in the sight of what occurred. An exhale escaping in the form of a sigh, remembering just why he took the time to walk all this way before being attacked.

Turning about, Sunai's words failed to register to him while being whispered to the pinned male, Norgrim in the meantime finally locating the parcel Vasir initially gave to him to deliver. Upon it was the tablet he froze to the top of the case, not being keen on carrying or losing such a thing. Again it was hefted into his right arm, nearly cradled within the leathersmith's arm before removing some errant snow off of the container.
"'Now, would you mind coming in? I'd like to see this package from Vasir if you please."
The first words uttered to him directly, Norgrim's head snapped about to catch the female's eyes. Already near her door, he followed her in, both eager to actually sit down and absorb what happened better as well as finally having a moment to talk. After all while he appeared calm, the young Ellune was far from it, he nearly was killed after all which is something that is far from easy to let go. All the same a light nod given to the female preceded his advance into the building.

"Heh, not at all. I need a few moments as is anyway after that.. you can likely tell that from a glance."[/align]