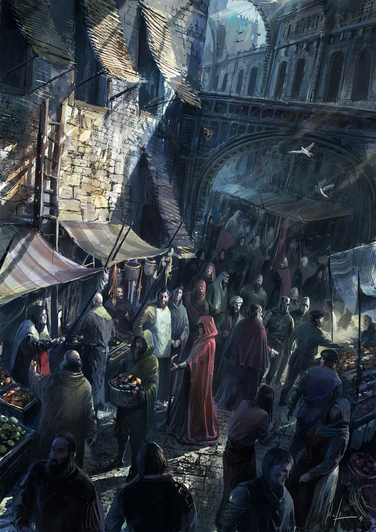 The midday chill bought a nice sense of refreshment to Norgrim as he exited Vasir's shop. His new package in tow, the younger Ellune begin his trek through Treidhart, of course this was one of the rare occasions such was managed as more oft than not his duties kept him occupied the vast majority of his time. For now he chose only to enjoy the scenery of this city that now was his home, waving through the bodies of others before making it through the dense traffic of the markets. Heading south, Norgrim having thankfully recognized the street this client lived on, the vigorous male carried along. Musing to himself of what occurred and just what was to take place, a smile forming beneath his beard before idly shaking his head.

"I wonder what she would say to all of this happening? Knowing her I'd likely get scolded for not wearing a shirt..."

Glancing once more at the tablet within his hand, reflections moving across the crystalline glass of various figures, Norgrim took the time to press the tablet against the case itself, freezing such to it so that he wouldn't have to carry that in his other hand. Only looking about before his mind once again fell back to what took place yesterday, in particular the words of that man while they echoed through his mind.
"You are new to this city, I understand. You will need to protect yourself beyond just a simple hatchet."
"Yeah... I suppose I shouldn't forget that..."

Immediately his countenance changed, far from that of paranoia however as Norgrim's left hand rested near his stowed away weapon. Steps becoming more methodical over the period of a few moments as that entire encounter with the robed soldier dominated his mind, the reminder that his life was now threatened or at least possibly so was new to him. As before however Norgrim only did what he was used to, hiding his worry and subduing his nerves through suppression of any anxiety that resulted. Only continuing on his path at the moment, remembering to look about as he neared the client's street. Glancing at the tablet one last time before aiming to find the address itself or the aforementioned cottage.[/center]
[/font]