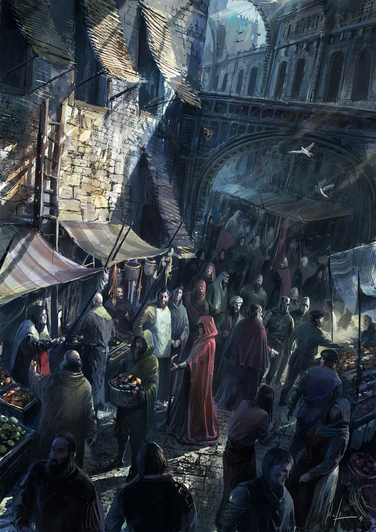 ~4 Cylus 716-
The morning sun waning across the mountains which surrounded Treidhart, it illuminating Norgrim's simple abode as it were. The prior day for this young craftsman has been easily the most peculiar of his life thus far. From gaining the rare audience of an Elder, to the apparent interruption of an attempt upon his life, and then to this gift which currently rested within his palm. Glimmering from the morning sun as it's light seemed to dance within the crystalline structure, Norgrim's eyes upon the short-sword's hilt as it's chill permeated his hand and forearm. The weapon itself still alien to him, a few casual swings through the air upon his rising tested it's weight and heft. As expected from ice it was far lighter than weapons made of steel or possessing a substrate of it, in fact in comparison to his hatchet the sword felt as a feather in his hand. Such seemed odd while Norgrim continued to get accustomed to his latest gift. For the moment his mouth silent and visage stoic, arms moving slow along with a wrist that seemed hesitant to articulate.

"I may not know just how to use you quite yet, however you deserve a place far better than the loop of my belt. I suppose it's time to buy a scabbard..."

Words trailing off in that sentence, only for the Ellune to place the weapon once more, and for the last time, within his belt loop. No caring for the time to don a shirt or boots, the cold morning air was refreshing to him as it should be. The breeze today carrying from the east, something that seemed to distract him enough as to cause a momentary release of any worry within his mind. With key in hand, and soon there after within his pocket, Norgrim advanced to the door of his home. Stopping as it were before his lips upturned into a faint smirk, only chuckling to himself as it were, once more words whispered to himself.

"You fool Norgrim, there's no way you can buy a scabbard without any coin upon you."

His door for the time open, the young craftsman shied from the light which shone through it, only to step off near his mantle and clutch a simple bag. The clatter of coin within it obvious, yet all the same there was no worry within the man, as more oft than not those who were to do something simply saw the man and turned away. His grim countenance usually too much for them to bear enduring more than a cursory look, as such he simply secured the pouch upon his belt, and the new dagger tucked within one of it's loops. The young man finally departed into the iced streets of his home, his door shut with a single click as the man's key was pulled from it's latch. Taking a moment to draw in the morning chill, eyes opening to only briefly survey the lay of the streets before him as Norgrim finally stepped forth.

"Now only to see if Vasir is at least willing to sell something today..."