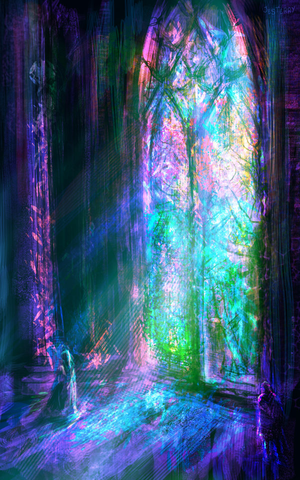 Pellan's response short, Norgrim only watched the Elder as their discussion came to a close. His departure graceful and silent, all the while Norgrim simply relaxed, although for but a moment. As he had no chance to even close his eyes in contemplation before the visage of another entered his eyeline. The previously relieved look that donned the craftsman's face tightened again into it's nigh grim countenance while his name rang out from another's lips.
"Norgrim Dyrdahl?"
The rasped tone echoing forth much in the way his own typically did, features which seemed carved from ice countered his rock-hewn appearance nearly perfectly. An odd symmetry in the two men despite the at least apparent age difference, Norgrim's stance straightening as a result of this sudden scraping upon his eardrums. Another man, equally blunt as it were approached, robes likened to water stirred an instinctive fear within Norgrim, one which was easily suppressed for the moment. Only for the young man to lock upon this man's eyes while he continued the impromptu questioning.
"I saw what you did back there in the Hall. You know something and that is important to me. Tell me what happened with that Ellune girl - how did you know she intended to kill Pellan? But be truthful in your answer, for we, the Black Ice, do not forgive those that give lies."
Still defensive upon the abrupt approach of this man, Norgrim's brow only furrowed in confusion at the remainder of his words. His form tensing slightly, yet all the same in the man's own piercing gaze was seen genuine confusion at the question. Such further evidenced in his reply, for though despite a voice as grating as this male, there was a true innocence about the unfolding events entirely.

"Kill.. Pellan? I can't say I have any idea of what you speak about. I only wished to ask the Elder of how I was to serve our Father due to my own confusion on such a thing. I... really can't say much more than that sir."

Words trailed off, unsure of how to address the man as it were. In fact this entire thing seemed to burst from the aether as it were, for while he noticed a woman that seemed to be in a hurry, such didn't come to mind as for Norgrim those things indicated someone who was merely rushed. In fact having forgotten her entirely as she was another face for the male, nothing more or less as his eyes continued to examine the other's countenance.