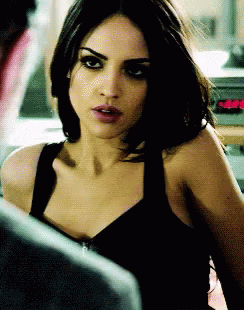 Name: Maxine
Age:
19
Race:
Mixed Blood (Avriel/Human-Biqaj Mixed Blood)
Date of Birth:
1st of Cylus, Arc 699
Marks:
Rusalkis
Factions Joined:
N/A
Languages Spoken:
Fluent: Common and Broken: Rakahi
Partners:
None.
Current Location:
Almund, Scalvoris
Maxine is not a girl that's overly fussy with her appearance. Her dark, wavy hair frames her rounded face to hover always just above her shoulders. Her black-lined, striking caramel eyes are rivaled for attention only by her sharp cheekbones and plump lips. If someone were to gaze upon her for some time, however, they might notice some peculiar attributes associated with her mixed heritage. Diluted Biqaj blood from her birth mother sometimes changes the hue of her usually caramel eyes depending on Max's mood. These alterations are certainly not so drastic as a true Biqaj, but they may appear on a spectrum from hazel to nearly black. Likewise, there exists Avriel influence in her irises, too. Flecks of black proliferate it as though the dark abyss in the center were slowly gaining ground against the Biqaj cover. Any other Avriel influence seems to be deeply rooted in psychology rather than appearance.
Chosen clothes tend to be light-weight and breathable, allowing her the most room to breathe in a world that she feels is constantly trying to nail her down and suffocate her. More often than not she'll happily wear a bandeau beneath a tank-top in the warm cycles and layer up with practical furs come the cold. Yet beneath those clothes one can glimpse the wounds of the past. Small, circular burns, lashes and miscellaneous scars mark her tan skin and sometimes peek outside whatever she's wearing. Since Chrien took notice, Max also boasts the goddess's mark upon her torso.
As someone who was left by everyone practically at birth, it shouldn't come to much surprise that Maxine is geared toward self-preservation. Repeated let-downs and exposure to the cruelty of the human spirit hasn't planted any trusting seeds in the Mixed Blood. Suspicious of virtually everyone and reluctant to get her hopes up, most will be hard-pressed to deceive the girl that is always expecting it. Being passed along from orphanage to orphanage made making and keeping friends hard, and after a while, Maxine became less preoccupied in developing a friendly/fake attitude that might make creating bonds easier later in life. Given the choice it's likely she wouldn't spend more time than necessary with others in general. Only the fittest of the fittest shall survive and Max has every intention of doing just that. She alone is her closest confidant, her most reliable friend, and her own family. No one can protect Max better than Max can...at least that's what she's come to firmly believe. All in all, when it comes to playing with others, Maxine doesn't play well. If the going gets precarious one shouldn't rely on the Mixed Blood to unreasonably risk her own life for anyone else's.
In many ways Maxine hasn't grown up. Besides her hypervigilance and paranoia, her emotions are tumultuous in that there's very little regulation. While guarded, her ego is easily wounded. Disrespect is answered with violence either verbally or physically. Those that have received both might even admit a verbal lash from the girl packs just as much stopping power as one of her bare-knuckle punches. Even criticism is met with strong resistance. Demanding too much of her can trigger her into a spiral of spite, the end result of such a mistake being entirely unpredictable but no doubt carrying heavy consequences for all. It's probably easier to lead a stubborn horse to water and make it drink than it is to force Max to do something she doesn't want to.
Despite her stark flaws, Max does have some merits. Unless seen as a necessity, the Mixed Blood prefers blunt candor over telling lies. What integrity she does have will manifest strongly despite the punishment she might earn for it. The very, very rare few that manage to create a bond with her will be protected fiercely and enjoy perks of her loyalty. Getting in the way of her determination when she has her mind set on something is extremely difficult. When she likes and is truly dedicated to something, it may manifest like an obsession.
For as long as she can remember, Maxine was always some sort of nomad. Perhaps it's due to some defense mechanism that she can recall so little of her early childhood. Whatever the case, even she admits there are glaring holes in her origin story. Most of what she does know has been filled in by caregivers she's had over the years. Born a Mixed Blood to a venturing Avriel man and half-Human, half-Biqaj woman, there's reason to believe she was never born out of love. From the moment she was abandoned at the first, orphanage after orphanage took turns passing the little abomination. Each place of asylum was different: some serving as waking nightmares, and others offering a glimpse into a life filled with genuine compassion and affection. After many arcs she landed in one particularly abhorrent place. It was the sort of establishment that smiled when young couples walked in the door but viciously lashed a starving child with the audacity to reach for seconds. One bout of corporal punishment too many sent a small Max slipping into the night with a sack of stolen, stale bread. The next morning she awoke to find that the docked sloop she'd hidden inside to safely sleep was well out to sea, and a few pairs of pointy-eared sailors blinking down at their stowaway with eyes that changed in light of their curiosity.
For the most part, the Biqaj people had embraced her rather warmly since they discovered her stowed away as a child in one of their sloops. She was fed, clothed, and taught like any other child in their communities. One would've assumed such an upbringing would've resulted in the Mixed Blood practically becoming no different from the pure-blooded adventurers that had taken her in. The charisma and light-hearted attitudes that defined the sea-farers was the part that never seemed to take. Everyday she seemed to wake up just as angry, just as distrusting of the intentions of those around her. No matter how much she practiced her smile never quite reached her eyes. Rolling with the punches was a foreign concept. Yet her prior trauma and paranoia weren't the only problems that barred her from becoming a proper Biqaj. There was simply no denying it: Maxine was a poor sailor. Everyone knew it. Her knots were never quite tight enough, the deck never quite clean enough, but the orphan had did her best to do her part all the same. Max was an unruly ward. Joking slights and ridicule by other children had almost always resulted in fist-to-cuffs. Even the smallest indiscretions seemed capable of setting the emotionally unstable half-Avriel off. Where Max went trouble always followed. Whether one wished to blame it on her genetics or early childhood trauma, the fact was that Max would never fit in. Still she always tried.
A series of altercations, disappointments, and failed jobs convinced Max her best bet would be to join a trading or pirating crew. With her best childhood friend Ned, she joined a ship with good intentions. Yet as the pattern prevailed, repeated conflict with the ships' captain escalated into outright violence. Max struck the last nail in her proverbial coffin when she hit him in the back of the head with the mop, humiliating him in front of his crew after he'd cruelly admonished her for the last time. After a firm kick to the face she was tossed into the ship's stores as punishment. In the midst of her childish tantrum below deck, Max spilled a large volume of gunpowder. By the time she was sent up to take watch the whole night as part of her reparations, a sea swell knocked a lantern lose. The explosion blew the ship apart and sent both Max and Ned into the sea. While those that perished in the explosion or the ship's sinking likely didn't know who was to blame for the tragedy, Ned did.
After a day of drifting a ship appeared on the horizon. At first relief washed over her. Then dread. Before the ship was upon them, Max plunged Ned's own sword into his middle and dropped him in the sea. Though she mourned the murder of her only friend, self-preservation was the strongest instinct. And dead men tell no tales. The Goddess Chrien took notice of this deceitful, devastating performance and elected to mark Max with Rusalkis; effectively unleashing a new, unpredictable, uncontrolled weapon to bring devastation upon the Human world. Soon after Chrien's storm, the ship returned to view to scoop the sea goddess's "Little Storm" from the sea. The simple lie of a ferocious storm breaking her ship apart in the water was bought by the benevolent crew. Without further suspicions, they dropped her off at the nearest trade port: Scalvoris. Now, with a dark secret to keep, Max will see how far she can go before her self-destructive tendencies reveal her again.
Like everyone else in Almund, Scalvoris, Max currently resides in the remains of decommissioned ships. In compliance with the City Dweller pack, her very humble abode includes a bed, a pair of chairs, a table, two knives, six plates, a fireplace, and a chest.
| | | | |
| --- | --- | --- | --- |
| Skill | Points Acquired | Total Points Spent | Proficiency |
| Unarmed Combat: Brawling | 100/100 | NA: FT | Master |
| Detection | 100/100 | (251/251) | Master |
| Blades: Gladius (RB) | 76/100 | (126/251) | Master |
| Deception | 51/100 | (76/251) | Expert |
| Endurance | 51/100 | (78/251) | Expert |
| Intimidation | 51/100 | (78/251) | Expert |
| Stealth | 51/100 | (76/251) | Expert |
| Thrown Weapon (Dagger) | 76/100 | (151/251) | Expert |
| Acrobatics | 26/100 | (27/251) | Competent |
| Resistance | 26/100 | (27/251) | Competent |
| Seduction | 26/100 | (27/251) | Competent |
| Strength | 26/100 | (27/251) | Competent |
| Swimming | 26/100 | (27/251) | Competent |
| Business Management | 25/100 | (25/251) | Novice |
| Navigation | 5/100 | (5/251) | Novice |
Knowledge:
Thread or Skill Name
Points Awarded
Points Spent
Running Total
Starting Package
50
00
50
Blades(RB)
25
00
50
Acrobatics
..
10
40
Unarmed Combat
..
10
30
Endurance
..
10
20
Intimidation
..
10
10
Stealth
..
10
00
Navigation(DJ)
5
00
00
Endurance(DJ)
4
00
00
The Regulars
10
00
10
Unarmed Combat
00
10
00
Shadows in the Tavern
15
00
15
Unarmed
00
5
10
Intimidation
00
10
00
Rusalkis I
3
00
3
Swimming
00
3
00
Dancing Into The Night
15
00
15
Seduction
00
5
10
Deception
00
10
00
Kenneled
10
00
10
Deception
00
10
00
Every Time, You Remind Me
15
00
15
Deception
00
7
8
Endurance
00
8
00
A Violent Reunion
15
00
15
Endurance
0
3
12
Intimidation
0
5
7
Stealth
0
7
0
The Enemy of My Enemy
15
0
15
Unarmed Combat
0
15
0
Fist to Cuffs
10
0
10
Unarmed Combat
0
10
0
Buggin' Out
10
0
10
Who Crazy Is
10
0
20
Knuckle Duster
10
0
30
Unarmed Combat
0
25
5
Stealth
0
5
0
Saboteur
10
0
10
The Unemployed
10
0
20
A Poorly Played Hand
15
0
35
Strength
0
25
10
The Butcher's Cut
15
0
25
Blades
0
24
1
Blackout
15
0
16
Resistance
0
16
0
The Darkest Shadow Can Be Found
20
0
20
Endurance
0
20
0
Dead Tales
10
0
10
Intimidation
0
2
8
Unarmed Combat
0
8
0
Ladies' Night Out
15
0
15
Yet The Resolute Never Give In to Darkness
15
0
30
When It Rains, It Pours
15
0
45
Rumble in the Dark
15
0
60
How Fire Starts
10
0
70
Intimidation
0
50
20
Detection
0
20
0
The Underclass
10
0
10
She Who Made Me Choose
10
0
20
Seduction
0
20
0
Sleepless in Scalvoris
10
0
10
Detection
0
9
1
Pies and Pints
15
0
16
Back So Soon?
10
0
26
A Revolutionary Walks Into a Bar
10
0
36
Into the Deep
15
0
51
Endurance
0
33
18
Slave to the Mask
10
0
28
Anguished by the End
15
0
43
Tides of Change
20
0
63
Detection
0
46
17
And It All Came Crashing Down
15
0
32
Blades
0
29
3
Little Fish in a Sea of Sharks
10
0
13
Masks in the Night
15
0
28
Seduction
0
2
26
Drought
15
0
Ruined Soil
15
0
56
Run, Girl, Run
10
0
66
Stealth
0
5
61
All That Glitters
10
0
71
Strength
0
2
69
The Horrors of War
15
0
84
Detection
0
76
8
A Deal with the Devil
10
0
18
The Fool's Errand
15
0
33
Shattered Earth
15
0
48
Breaking Silence
15
0
63
A World of Hurt
15
0
78
Of Blood and Stone
15
0
93
White Buffalo
10
0
103
Detection
0
96
7
Unarmed Combat
0
7
0
The Hyena Den
10
0
10
Until the Last Drop
15
0
25
A Second Smile
15
0
40
Secrets and Lies
15
0
55
Healing Hurts
15
0
70
The Sisters
15
0
85
Thrown Weapon
0
25
60
The Long Way Down
10
0
70
Acrobatics
0
17
53
A New Edge
10
0
63
Something to Stick
10
0
73
Just the Tip
10
0
83
Intruder Alert
10
0
93
Thrown Weapon
0
50
43
Strays and Orphans
15
0
58
And So Sanity Slipped
10
0
68
Deeds Most Foul
10
0
78
Thrown Weapon
0
75
3
Just As You've Seen Me
15
0
18
Begin the Vendetta
10
0
28
Come All Ye Needy
15
0
43
Stupid is as Stupid Does
20
0
63
Picking Up the Scent
10
0
73
Where's Francis?!
10
0
83
You Think Darkness is Your Ally?
10
0
93
Where You've Been
10
0
103
Before The Trail Goes Cold
10
0
113
What's In The Box?!
10
[/td] 0 [/td]
123
Blades
0
75
48
The Slow Knife
10
0
58
Mask Off
10
0
68
Dig Two Graves
10
0
78
Deception
[/td]0[/td]
50
28
Coming Down
10
0
38
Swimming
[/td]0[/td]
24
14
The Ashcloak
10
0
24
Preying Mantis I.
10
0
34
Preying Mantis II.
10
0
44
Preying Mantis III.
10
0
54
Resistance
0
11
43
Of Clay and Bricks
15
0
58
Stealth
0
50
8
The Tell
10
0
18
Turn Cloak
15
0
33
Business Management
0
25
8
Fiery End
10
0
18
Masks Come Off
15
0
33
He Ain't You
10
0
43
I'm Sending You Away
10
0
53
Acquired via City Dweller's Starting Package

One set of clothing (cloak, shirt, pants, undergarments, and a pair of boots)
One Set of Toiletries: Soap, A brush, razor, toothbrush, toothpaste (lost)
One waterskin (lost)
Two sets of eating utensils (lost)
Tinderbox (lost)
Compass (Loot)
Leather Armor
Leather Gauntlets
Leather Greaves
Leather Fauld
Leather Padding
Leather Helmet (lost)
Heirloom: Ned's Gladius Sword
Lavana's Necklace
Good Quality Bone Dagger
Gladius, Mercy's Embrace
Chalice of Fortune
Kindred Bracelets
Cloak of Hiding
Silver Cutlery Worth 50gn
Stolen Earth Element Pin
*All above items are currently in a box with Max's name on it in Slags Deep Prison*
Robe (Cotton, Itchy)
Pickaxe (Good Quality, Steel)
Gladius
[anchor=marks]Special Items[/anchor]
"Mercy's Embrace"
Mercys Embrace is a master-crafted Gladius with a blade length of 68 cm(27 in), and a pommel length of 7 inches. The weapon has a total length of 34 inches, and the blade width of 2.5 inches; the blade is composed of embersteel, and is thus heavier than the average Gladius. As a result of the master-level of craftsmanship it is incredibly durable. The weapon possesses an

elemental illusion

thus it always appears to glow a bright cerulean hue, and the entire weapon from blade to pommel dances with azure flame. Max might notice that the weapon is far heavier than any of her older blades, and has a far more ornate design in the metal alone. The pommel of the weapon bares striking similarities to that of a long-sword. With a heavy pommel designed to deliver blunt force crushing blows, and a somewhat abrasive grip as to promote proper hand placement. Unlike the average gladius this one features a hand guard as to protect the wielder.
Price deducted from Mercedes Ledger

-Fractured Ribs (2) from being thrown against stone wall -Can heal on own, will heal faster with Medicine of Competent+ applied
-Slash wound from spear along left rib (1 permanent scar) -Will need stitched up, Novice+ Surgery
-Foot Skewered 1 (Permanent scarring) -Will require Expert+ Surgery and Medicine to heal with moderate chronic pain after. Master+ for full recovery

The above listed injuries will all be healed upon 60 Ashan.
| | | |
| --- | --- | --- |
| Item | Debit | Credit |
| City Dweller Starting Package | ... | 100gn |
| Leather Armor (Full Set from Price List) | -35gn | ... |
| Loot from A Violent Reunion | ... | +150gn |
| Zi'Da Seasonal Wages-Expenses | ... | +535gn |
| Knuckle Duster Thread | +50gn | 585gn |
| Cylus Seasonal Expenses | ... | -5gn |
| Pies and Pints Thread | ... | -11gn |
| Back So Soon? | ... | -2gn |
Total Currency: 0 ON, 667 GN, 0 SN, 0 CN
| | | | |
| --- | --- | --- | --- |
| Item | Earned | Spent | Total |
| Earned a Medal (Murder) | 5 | 0 | 5 |
| +50 in a Skill (Unarmed Combat) | 5 | 0 | 10 |
| Complete a Collab. Thread with +2 PCs (x2) | 10 | 0 | 20 |
| Event Participation and Completion (Cylus 718) | 2 | 0 | 22 |
| Meet a Mortalborn (x2: Lavana and Kura) | 4 | 0 | 26 |
| Create Approved NPC (x5: Red Ravens Sharks) | 10 | 0 | 36 |
| Small Renown Reward (1) | 50 | 0 | 86 |
| Small Renown Reward (2) | 50 | 0 | 136 |
| Kindred Bracelets | 0 | 30 | 106 |
| Chalice of Fortune | 0 | 30 | 76 |
| Cloak of Hiding | 0 | 60 | 16 |
]Item/ Thread
Fame
Total
Starting Race
10
10
Starting Race in City
10
20
Mercenary
10
30
Dancing Into the Night
1
31
Kenneled
3
34
A Violent Reunion
20
54
The Enemy of My Enemy
15
69
Knuckle Duster
4
73
Fist to Cuffs
5
78
Buggin' Out
2
80
The Unemployed
2
82
A Poorly Played Hand
10
92
Saboteur
25
117
Aftermath
15
132
The Butcher's Cut
10
142
Ladies' Night Out
5
147
Yet The Resolute Never Give Into Darkness
5
152
When It Rains, It Pours
5
157
Rumble in the Dark
5
162
How Fire Spreads
10
172
A Revolutionary Walks Into a Bar
5
177
Pies and Pints
10
187
Anguished by the End
5
192
Tides of Change
0
212
And It All Came Crashing Down
15
227
Masks in the Night
15
242
Run, Girl, Run
5
247
Shattered Earth
5
252
The Hyena Den
5
257
The Sisters
5
262
The Long Way Down
5
267
Intruder Alert
5
272
And So Sanity Slipped
5
277
Come All Ye Needy
282
Stupid is as Stupid Does
10
292
Picking Up the Scent
10
302
Where's Francis?!
10
312
The Slow Knife
5
317
Dig Two Graves
15
332
The Ashlocka
5
337
Preying Mantis II.
10
347
The Tell
5
352
Turn Cloak
1
353
Fiery End
5
354
Zi'da 711
50th:
Of Clay and Bricks
(Graded)