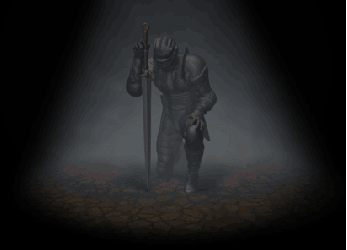 Forehead and hard hands leaned on the only object that seemed to remain aflame whilst everything else swirled into the drowning waters. A steely blade or as Gangui thought of it, virtue incarnate. In the times of chaos, Gangui could trust no person. No magic. No symbol of strength. Not even if he reasoned with himself otherwise. He had known no other defense against the series of horrific events making up his life of toil.

Clouds covered the moon, softening the twilight shine and hiding the form of the kneeling warrior to casual onlookers. Somewhere between the delta and the harbor walls, the heavens drizzled on the beach on which he knelt. Droplets encircled the handle and ran down the razor of his sword, shimmering in the twinkling starlight.

Body unmoving on his steel crutch, he prayed.



~~~



He tortured himself.

The crack of his father's knuckles breaking a young boy's skin replayed in his mind's eye.

'If you're gonna be stupid in this life, you gotta be tough!'

Not until this very moment did the warrior understand the terrible words.

He had gone nearly a quarter of a century under the most gruelling of circumstances, all without an inkling of what could pass as a congruent thought. And despite all this, he found himself making serial blood oaths and fighting dangerous battles and carving ideology into the stone of his mind. All things that he would never had chosen if he was more conscience of what was going on around him. At least he had survived. Maybe the hard lessons were hardly worth the experience?

Another crack of his father's knuckles,

'Stop feeling sorry for yourself, get over it,'



He was born into a dark hole and with all his energy he had dug deeper into it. As if where he stood wasn't already an unachievable challenge already. His hate of himself for this was real.

He preferred the times before he had a taste of heaven, before Tanvi cursed him with her presence. No. It was his fault. He was so weak. So weak to fall prey to such base pleasures as that of a woman's breast. What about Ellen'wyn? He had begun to form a bond with her, an actual female companion for mere lust? Ellen'wyn didn't like him anyways. He would never be able to find this love ever again, now that he was conscious of it.

The words of his father pushed him to try to find a solution. There has got to be a deeper meaning to all of this suffering. It was a test. Yes a test from nature in order to justify what he wanted. No this was his imagination speaking. The pragmatism of everything he had experienced was coming back into his mind's eye. The mental jumping jacks shed away the disgusting ignorance, one thought at a time, but it was too slow. Too fucking slow to find a solution.

If Zipper had been present in this moment, then she would have laughed at his infantile understanding of all things. Pointing her elite fingers at him with proffered orders. The retainer being a mere tool, given to her by the world to help her complete her goals. Had put himself there? Or was that the place he was born to exist in?

Robin drilled this fact even more, proving to him his only usefulness was as a fleshbag for arrows to rain down on and help navigate the wilderness. Even then, he was still using a lazy man's antidote and if Rob had any sort of discipline, he would be able to accomplish all these things himself.

The worst part of it all was his inability to follow his own resentful logic. Unable to return back to the beginning of his thread of thoughts and justify the thinking.



'Always carry more than your fair share of the burden'

His father used to pound into to him with exhaustive force,

'Always tow the most.'

Why should he be so good to the wider society when no one else was?

His mind's eyes returned to the scenes of his youth where his hands and heart were turned into stone in the tunnels of the adamantite mine his father coerced him into excavating. Outside the tunnel, children everywhere were being socialized and learning how to deal with the pain, while he spent all the time alone and completely unconscious of his pain, chipping away at rock. Like a retard: so known for their strength of back and weakness of mind.

Beating away non stop without the sense to run away.

Pushing forward without the smarts to even lets himself be broken and accept darkness.

All this for a sword.

All this pain for the virtue of steel being ingrained in his fabric of being.

Some type of action was needed.

He needed to fix this problem, but there was no Immortal crutch for him. He had no family to support him. He had no woman to keep him company.

Gangui was all alone.

He decided that he wasn't smart enough to outthink this. He would tough it out instead.
The warrior accept who his mission. He was built to fight for justice. He was given immense strength to protect the weak. He was blessed by the human spirit and squandering the gift he had received would be a pity. He had the capability, strength of body, will of mind to push forward for the working man and defeat the immortals.

But something.

Something unknown was holding him back despite his soul's natural inclination and draw towards this.

Finally he got mad at himself. This long prayer was becoming too much for him.